Today Bill and I are celebrating four years of marriage. Four years married to my best friend and the love of my life seems so unreal to me. I feel just as lucky to be with him as I felt on my wedding day four years ago, and if it's possible I might actually be more in love with him.
Following our wedding, we spent a relaxing night at the Edgewater Hotel in Seattle before heading off to Cabo for our honeymoon a few days later. We celebrated our first anniversary at the same hotel, and in 2019 we spent our second in Scotland. It was still one of the best vacations I've ever taken. Last year, our third anniversary coincided with Washington state beginning to lock down due to the pandemic, so we got creative and spent a day driving out to the Olympic Peninsula to visit Ruby Beach, the place we got engaged in 2015.
This year, we wanted to do something special but between the pandemic and our anniversary falling in the middle of the work week, we decided to celebrate early by spending a night in Mukilteo at the Silver Cloud Hotel. We've spent the night there a few times in the last several months and we adore it. The hotel offers a room with a Jacuzzi tub, overlooking the waterfront and the ferry terminal. We like to take our firestick so we can watch movies, and we can get room service from Ivar's next door and enjoy fresh, delicious seafood without ever having to leave the comfort of our room.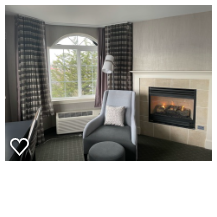 Because it was our anniversary, I was excited to find out that the hotel offered an upgraded package with the Jacuzzi room that came with a bottle of sparkling wine and chocolate truffles. I thought it gave our getaway a little extra romantic touch.
On our way to Mukilteo, we took a little detour to Snohomish to pick out cupcakes from Simply Sweet, the same place that we got our wedding cake and cupcakes from. They're still my favorite cupcake place ever! I chose a pink champagne cupcake and Bill got a vanilla coconut.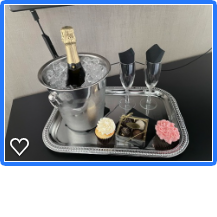 We loved our anniversary getaway and enjoyed the chance to have a mini-vacation, even a local one.
For our actual anniversary today, we exchanged cards (Bill always hand-draws my cards which I love, he is an amazing artist) and Bill bought me a gorgeous bouquet of two dozen roses.
I am so grateful for our relationship and marriage. Bill shows me every day what it's like to be truly and unconditionally loved and that feeling can still take my breath away. Sometimes I have no idea how this kind, smart, funny man could have ever fallen in love with me and he definitely has the patience of a saint, but the two of us fit together perfectly. The last year in particular came with some incredibly difficult times, but having Bill by my side helped get me through and I feel like we're stronger than ever.